NEW YORK

- Reports state that over one thousand bills of 5,000 dollas are being handed out in the streets, posted on billboards in schools, grocery stores and local police stations. If these reports are accurate, this would amount to over five million dollas.

In a brief statement to the press, GAMBONI officials refused to speak about the source of this unprecedented amount of dollas spent on advertising a board game but added that they might even spend "a couple of million" dollas more, just to "get a message across."
Powered by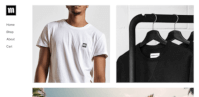 Create your own unique website with customizable templates.